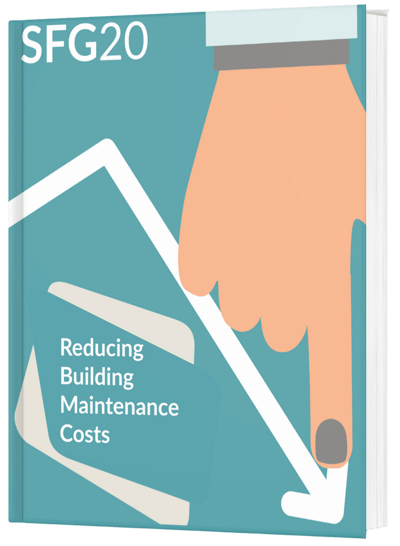 Download your
FREE

checklist on reducing your maintenance costs
Top Tips to Reducing Building Maintenance Costs
33% of attendees in SFG20's recent webinar series "How to optimise your maintenance strategy" stated that defending maintenance budget cuts was their biggest challenge. The result was understandable given the backdrop of sustained and extreme inflationary pressure affecting energy, labour and parts prices. The Building Costs Information service predicts building maintenance costs will rise by 4.8% in 2023, which is likely to cause a shortfall in the maintenance budgets if planning was done prior to the surge in inflation.
Fortunately, there are a few steps budget holders can take to manage their maintenance budget during periods of high inflation. As well as keeping up with all of the legal requirements, sector-specific regulations, and various tasks necessary for efficient upkeep. Below we discuss these steps in further detail.
1. Identifying Assets
The first step to reduce maintenance costs is by understanding what assets you need to maintain i.e. having an accurate and up-to-date register of all your assets. In the recent SFG20 webinar series, we asked attendees to tell us what level of confidence they have in their asset register, whilst 20% replied high or very high, 49% had only a medium level of confidence and the remaining 31% had low or very low confidence.
Once you know what assets you have and their current condition, you can decide how best to maintain each one. "Mismanaged assets cost businesses around the world $17 billion a year in losses, unnecessary maintenance and non-compliance" Source: PwC
2. Legal Requirements and Maintenance Planning
Next, ask yourself, are you confident of what maintenance tasks are required by law? In a recent survey, SFG20 identified 47% either didn't know or only had some understanding of their legal obligations.
This is extremely concerning as mismanagement of assets can lead to heavy fines and even imprisonment. For example, a UK company was fined over £200,000 for mismanagement of the maintenance of a tank line, that resulted in an employee sustaining over 37% burns and the loss of their lives. So, what can you to ensure you protect your employees, stay above the law but also cut unnecessary costs?
Using tools such as SFG20's Maintenance Management Software to help you identify and maintain all of your assets, you'll be provided with the optimum benchmark for keeping them in the best condition and be able to avoid both over and under maintenance.
You'll also never have to worry about remaining compliant again, as SFG20 schedules automatically update to reflect legislation changes and current best practices. When there are impending legislation changes, SFG20 keep you informed with technical bulletins so you can prepare accordingly.
3. Preventative Maintenance
"It is recognised good practice to allocate planned preventative maintenance and reactive maintenance budgets in the region of 70:30 ratio" Source: Chartered Institute of Public Finance and Accountancy (CIPFA).
Preventative maintenance entails regularly checking vital components within equipment and replacing parts when necessary. It also includes cleaning and lubricating components, testing operations of machinery, inspecting safety devices, calibrating instruments, and more. Scheduling these checks at regular intervals also helps keep track of when components need replacing or repairing to keep equipment running smoothly without interruption. Preventative maintenance reduces the risk of unplanned downtime due to failure of equipment by catching any potential issues before they arise. Downtime can be both costly and disruptive. For example, critical lighting failure in an operating theatre could be a matter of life or death. It is estimated an unplanned outage at a data centre costs £6,850 per minute, with the number one reason for a failure being a UPS failure, usually from a battery that needs to be changed. Source: Ponemon
To learn more visit our guide on: Creating a Preventative Maintenance Plan.
4. Upskilling Your Employees
It's important to invest in the skills of your employees. Training them in effective and efficient methods for maintaining equipment and facilities can help you reduce the need to rely on external contractors at short notice, saving you money in the long run. This will ensure that your employees are better equipped to handle issues that arise with your equipment and facilities.
5. Conduct Regular Reviews of Maintenance Expenditure
Regular reviews can help you identify areas where costs can be reduced or managed more efficiently. This will allow you to optimise your budget while still ensuring that all necessary maintenance is completed correctly
Costing up your maintenance plan using powerful software tools such as SFG20 Resource Modeller empowers Facility Managers to demonstrate the costs required to maintain their buildings to a safe and compliant standard and to defend budget cuts. Tasks are colour-coded so that you can easily differentiate between statutory, optimal, and discretionary tasks. By applying a risk based approach to those tasks that are not legally required, you can choose to delay or omit certain tasks based upon your own situation and level of risk posed to the business if that asset were to fail, resulting in a slimmed down maintenance plan and budget.
Reducing your expenditure on asset maintenance can be crucial for the success of your business. By following the tips outlined in this blog post, you can take concrete steps to decrease your costs and increase efficiency. Implementing a reliable software solution such as SFG20 Resource Modeller is a great way to get started on reducing your asset maintenance expenses. Contact SFG20 today to schedule your free demo of SFG20's Service Model and Resource Modeller software.
You may also enjoy reading and watching