These are questions which we should not predict the answers to, given the severity fire, but questions that will need to be answered. People are already asking questions – questions asked like 'did the residents have concerns throughout the refurbishment? Were they listened to? If not, why not?
But some questions are not being asked yet:
What about the construction teams' views?

Were they listened to?

Did the client care?
The emerging focus, given the Lakanal House disaster, seems to be hoping that an unfortunate individual will not be scapegoated with the blame, but instead questioning whether there is systemic failure to adequately incorporate safety and integrity in the built-environment because of overriding pressure to drive down price. We know after Lakanal House that Part B of the Fire Regulations, referring to tall buildings, was recommended for review by members of All Party Parliamentary Group on Fire Safety.
We've known for years that the construction cost is only 10% of the whole life cost of the built-asset so, especially where the construction owner is going to own the operation (80% of the cost) of the asset, why not invest upfront for a longer term social and economic return.
Is this why the policy is to compartmentalise fires in tall buildings, use fire/smoke safe doors and to 'stay put' and keep safe human life?
Scope of the Inquiry
Over 30% of respondents to the breadth and terms of the public inquiry asked that the terms of reference should cover: the design and construction of the building, its subsequent refurbishments (including the design process itself), the procurement of contractors and the qualifications and training of those making decisions. Most referred specifically to the installation of cladding and insulation, but several also referred to the installation of gas in the building.
The inquiry team have submitted their terms of reference which outline to the Prime Minister the scope of their review - within the terms of reference we are pleased to see the inclusion of:
The scope and adequacy of other legislation, guidance and industry practice relating to the design, construction, equipping and management of high-rise residential buildings
The design and construction of the building and the decisions relating to its modification, refurbishment and management
In other words, the inquiry has full jurisdiction to report on procurement failures, if there were any that is, within Grenfell and the wider public sector procurement system.
Systemic failure
The public sector is often under high pressure to disseminate budgets and deliver on time. It therefore chooses a design & build procurement route because it allows itself single point responsibility and absolute control over price and programme.
Contractors tell us at BESA that often tender information and drawings are basic and indicative, if lucky, but at the poorest.
This scant information is coupled with unrealistic programmes which are often set in stone at tender stage without any discussions with the 'team' that are eventually engaged to supply the built-asset.
However, often concerns are raised during both design and construction regarding quality, safety and integrity and those concerns are subsequently value engineered, at least once, out of the price to save money and ensure the built-asset falls within budget.
So does that mean that fundamentally the procurement system is flawed because, without regulation, it is geared towards lowest cost regardless of safety? After all, we know that all new schools do not, by default, have sprinkler systems incorporated into the design specification, and if you don't have to have it you will remove it to reduce the price.
Budget
Our contractors inform us that rarely does even the lowest tender come within a client's budget. This does not mean the tender is wrong, more often than not it simply proves that the client's budget is too small and that they cannot actually afford what they want.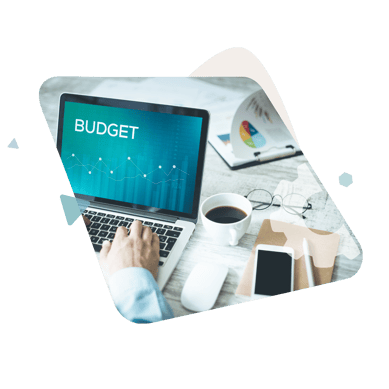 We've all seen the numerous TV shows constructing and re-constructing domestic properties, and the universal truth is that the engineering is cut to accommodate a budget which is too low to match expectations and the outturn cost is always around a third more than the budgeted cost. This brings you to a conclusion that you get what you pay for, but you have to pay for what you want.
The contract to improve insulation and replace heating and water systems in the Grenfell Tower block was supposed to be carried out by building firm Leadbitter, but the contractor said it could not do the work for less than £11.27 million. This was £1.6 million above the council's budget.
The Kensington and Chelsea Tenant Management Organisation - which maintained the council's housing stock - put the contract back out to tender, with the winning tender carrying out the work for a price of £8.7 million, 22% less than Leadbitter's original estimation – even though the plans did not change.
Integrity
Tenders are never won on quality but on the lowest bid. Once won, the successful tenderer is then often asked, at least once, to 'value engineer' the price downwards, which can only:
a) save the client money by driving down cost at the expense of quality, integrity and safety
or
b) maximise profit by driving down construction price at a point after competitive tendering, whereby price has already been realistically driven to its lowest sustainable point
During this process the professional team usually, for lowest price reasons, provides a desktop/cursory design service leaving the specialists to back-fill their design inadequacies under a design development brief.
Portions of the project quickly emerge as falling into grey areas, that nobody has costed and which all parties thought fell within another contractor's remit.
Time
If budgets need to be spent, and projects completed without upfront planning, the design and integrity of the planning phase is ultimately compressed into the construction phase in order to deliver on time.
Reform
It emerged that in 2016 the London Fire Brigade had asked the council to check all tower blocks to make sure self-closing systems on fire doors were working, following an arson attack at Adair Tower in October 2015. Yet no fire safety inspections had been carried out on the block after 2015.
The Local Government Association said councils across the country were carrying out 'urgent reviews' of their high rises with local fire services.
Lord Porter, chair of the LGA said 'Fire risk assessments and the construction of buildings are being reviewed and double checks are being made to ensure remedial work recommended under previous assessments have been carried out. Councils are also working closely with tenants to review and offer fire safety advice.'
But Dr Kostas Tsavdaridis, Associate Professor of Structural Engineering at the University of Leeds said builders often put appearance before safety.
'There is a trend nowadays where architects and designers use decorative materials to make buildings more interesting and aesthetically pleasing,' he said.
'Although theoretically, they are fire resistant, in most cases they are high-temperature resistant instead of fire resistant. But even if they are, smoke and fire will spread through the joints and connections.'
If procurement systems were altered to cater for the integrity of the built-asset through early specialist involvement and realistic time and price expectations, corners would not be cut and the risk of mistakes would be minimised.
Contractors therefore hope that lessons will be learnt from this landmark tragedy and that the introduction of DfMA, BIM, data led whole-life procurement and the Social Value Act will play a greater part in the leadership and procurement decisions of the public sector - (represents 40% of UK construction demand) who not only built but operate the built-assets and therefore have an inarguable vested interest in the quality and integrity of the built-asset.
What else are we missing?
It goes without saying that many lessons will have to be learned as a result of the horrifying Grenfell Tower tragedy, but improving the way Building Regulations are applied and enforced should be at the top of the list, according to Tim Rook*of the Building Engineering Services Association (BESA).
The investigations over the coming weeks and months must address apparent systemic failures and for some time now, BESA has been highlighting the fire risks associated with the poor cleaning of ventilation systems; in particular extraction systems from kitchens.
There have been examples in the past of fires occurring in these systems, such as the Heathrow Burger King fire in December 1997 where a small spark in a clogged air vent above the kitchens led to flames spreading 200m along the web of air ducts in Terminal One's roof. More than 300 flights to Terminal One, which handles domestic, Irish and European flights, had to be cancelled or diverted, with thousands of passengers delayed and stranded. A British Airports Authority spokesman said that the fire had been contained by a £1m fireproof membrane in the terminal's roof, but such a precaution is prohibitively expensive for the wider built environment.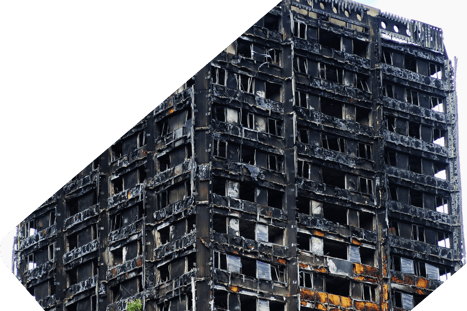 Of the 24,000 accidental fires per year in commercial properties, around a quarter are attributed to cooking and extraction systems. Under the Regulatory Reform (Fire Safety) Order of 2005, extraction systems must be included in fire risk assessments and action must be taken to minimise potential fire risk to any buildings and occupants. Failure to carry out proper cleaning and maintenance could also lead to a breach of Environmental Health regulations and can even invalidate fire insurance policies.
This is symptomatic of the wider culture of neglect in our regulatory environment. There are rarely any prosecutions for missing quality standards in buildings and almost no attention is paid to wider goals like energy efficiency under Part L. But when specifically examining ventilation hygiene, the systems are out of sight and therefore, unfortunately, out of mind. With a number of systems also badly designed they are difficult to access and simply become a hidden danger.
This is a maintenance issue rather than a construction one and, whilst the investigations around Grenfell are looking at construction issues, we must not forget the massive problems that there could be in existing buildings inner workings rather than just their cladding. Many extraction systems are located in areas of high population, in hotels, stadia, shopping centres, below offices and below housing. A major incident in Harrogate involving a kitchen duct fire in 2014 involved 14 self-contained social housing flats over two floors and residents had to be re-housed with the fire service on site for 5 days damping down the fire.
'When the fire safety maintenance of commercial kitchen extract systems is ignored or done on the cheap, a huge fire risk is the result' says Gary Nicholls, Managing Director of SwiftClean, one of the UK's longest established providers of duct cleaning services and BESA Accredited. He goes on to note:
'Currently there is no requirement on the fire service reporting system to identify when fires have been transported by ductwork. I have written to many MP's on the issue and have been advised it is being considered, but have yet to see any change. If this were a requirement of the reporting system then the extent of the issue and lack of control could be better identified.'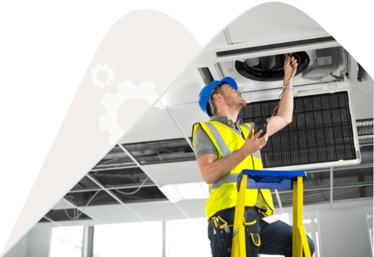 Many tower blocks in the UK lack any form of fire separation in their extraction systems and the typical deposition is highly flammable. Where this is the case they should be upgraded to include fire separation between dwellings and ducts should be kept regularly cleaned. While we appreciate that money cannot simply be thrown at every problem in the UK, it is worth considering the resources that are being wasted though the fire service, due to the lack of control of grease levels and duct cleaning throughout the UK and the risk to the general public that this creates.
There are numerous blocks where shared ventilation ducts and shafts pass from occupancy to occupancy with no fire break to the ducts. BESA will continue to facilitate best practice in our sector and will be campaigning on the need for surveys of such ducts and shafts in all multi tenanted blocks. Retrospective fire partitions can then be fitted as required to increase protection via dampers and intumescent grilles for example, while shafts can also be cleaned to remove combustible deposits.
The ventilation hygiene sector is growing as building owners face rising costs and more stringent conditions imposed on them by insurers concerned about fires. The need to keep food preparation areas free of contamination is another increasingly important area of potential risk and depends on systems being kept clear. All employers are subject to health & safety at work legislation, and since it was first developed in 1998 by BESA, TR/19 has been widely accepted by the built environment sector and British insurers as the standard to which ventilation systems should be kept.
The BESA launched in May of this year the Accredited Grease Hygiene Operative (GHO) course, developed in conjunction with TR/19 and our expert members from the BESA Ventilation Hygiene Group. Once again it has taken a major tragedy to force action, and we need to reverse the inexorable erosion of professional standards that has taken place over the past several decades.
Over the coming weeks we will be publishing a series of blogs covering topics such as procurement processes, digital systems, and the regulatory framework. These blogs will re-examine long-standing issues in the sector to look at how best we, the industry, can take action following a tragedy which has sadly, once again highlighted the need for change.
*Tim Rook is technical director at the Building Engineering Services Association (BESA).